At Deets Catering, we love what we do and it shows!
Michael Deets, owner of Deets Catering & More comes from a LONG line of relatives who worked long hours and many days at a vegetable and fruit market business and Seafood Restaurant in North Troy. The Deets family was, and still is, well known for their fairness and kindness to their customers and vendors and providing great food for a good price. They would frequently offer food specials that couldn't be beat. And they had REGULAR customers. They were active in the community and could be seen selling pumpkins at Halloween or Christmas trees and wreaths complete with a greeting Santa, a Fish Fry customer himself and friend of the family. If you mention the name "Deets" in this area, people know exactly who you are talking about. EVERYONE knows Mike Deets! He was a proud member of the Rensselaer Chamber of Commerce for many years. 
Michael learned the "work ethic" from his elders and worked alongside his father, mother, aunts and uncles sometimes 7 days a week to make their business successful. One uncle was heard saying "if you're going to eat 7 days a week you have to work 7 days a week"! Michael worked at the Fish Fry after school or a soccer game and learned how to make a great coleslaw, macaroni or potato salad like his mother taught him and was a "hit" with their customers. He developed a "specialty" sauce that complimented his fish fry. Although, Michael took over the Fish Fry, North Troy from his father Steve Deets, and ran it successfully for 7 years, his interest expanded into providing a variety of food vendor services and catering.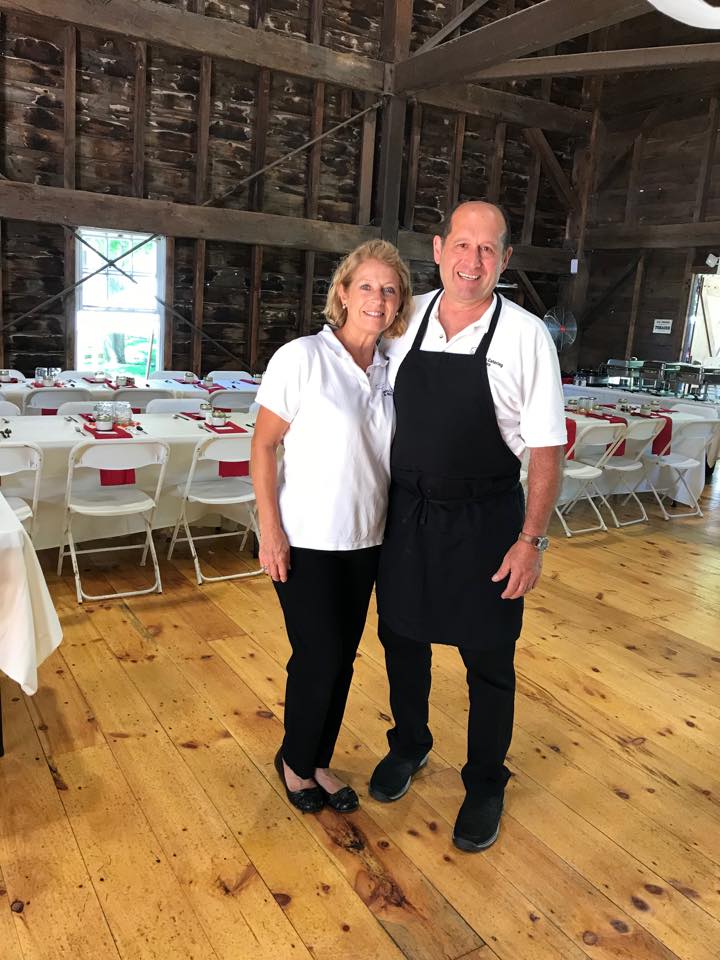 His LOVE is selling fried dough in a very uncommon, open tent style ("I want my customers to see what I am making and enjoy that experience as well as the joy of eating it!"). He has been a regular food vendor at the Clifton Park 4th of July Family Day and Fireworks for the last 25-30 years selling primarily fried dough, as well as hamburgers, hotdogs, Sausage with Peppers and Onions. He is invited back each year by the Clifton Park town staff. Other events have included selling at Rodeos, Car Shows, Craft Shows, other Municipality sponsored events, Rehearsal Dinners, Senior Center Dinners, Company Picnics and many more.
Michael's specialty is serving Buffet Style meals in various types of events and settings. He feels this is the easiest and most efficient way to serve groups and provide the variety of food the customer wants and expects. He is extremely conscientious to every detail and provides delicious meals that are properly displayed and served.
Below is a list of Michael's Food Service Experience and Accomplishments:
Alpha Bowling Alley, Party (Troy, NY)
Turnpike Elementary School, Teachers Event (Troy, NY)
New York State Lottery Building, Office Luncheon (Schenectady, NY)
Cohoes Music Hall, "Black Tie" Party (Cohoes, NY)
St. James United Methodist Church, Biannual Chicken BBQ Fundraiser (Cohoes, NY)
Carbone Auto Group, Bennington Ford Boy Scouts Chicken Dinner Fundraiser (July 2019)
Albany Pinebush Lupine Fest food vendor (2017, 2018)
Jonesville Fire Department 100th Anniversary food vendor (May 2019)
Woodlawn Commons/Wesley Community Fried Dough Vendor (2018, 2019)
We are proud members of the Southern Saratoga Chamber of Commerce.